Click here for a listing of all HUMMER Network sponsors

The Hummer Knowledge Base
---
Changing Tires (with Runflats) on Two-Piece Rims:
---
Serious safety precautions are necessary. The procedure is explained in the Goodyear Video. This video should be available from Hummer dealers or AMG.
Dave Breggin
'95 Diesel Wagon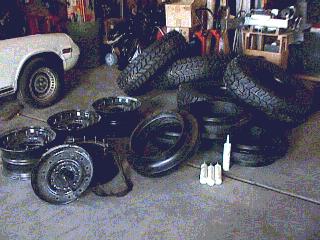 Tools used but not pictured: Second pry bar, Rubber Mallet.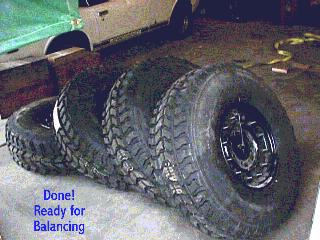 ---
The Hummer Knowledge Base is a collection of informative posts from the Hummer Network forums and mailing lists, contributed material and links to outside web sites.
The Hummer Network is not responsible for the accuracy of the information contained herein or on outside web sites, nor for any situation arising from the use thereof.
© 2006-2011 by The Hummer Network. No material from the Hummer Knowledge Base may be reprinted or republished in any form without permission.