Click here for a listing of all HUMMER Network sponsors

The Hummer Knowledge Base
---
Transmission Check Valve
Here is a pic of a poppet type check valve. This is a Parker with a nitrile-BUNA spec seal and aluminum case, 1/4 thread. 27 smackers each. It has a cracking pressure of 1/2 psi, but I think the spring can be heavier to give it a higher holding and cracking pressure, since the ATF sloshes around quite a bit.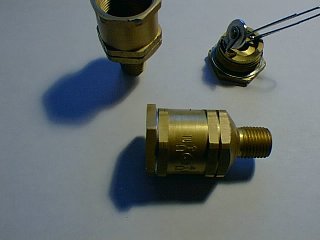 ---
The Hummer Knowledge Base is a collection of informative posts from the Hummer Network forums and mailing lists, contributed material and links to outside web sites.
The Hummer Network is not responsible for the accuracy of the information contained herein or on outside web sites, nor for any situation arising from the use thereof.
© 2006-2011 by The Hummer Network. No material from the Hummer Knowledge Base may be reprinted or republished in any form without permission.