Exterior/Roof/Mounting Spare Tire on:
---
The person who bought the first Hummer I sold mounted his spare tire on the roof. Just drilled 4 holes, put some eye bolts in, chaulked the bolts, and chained the tire to it. A little crude, but it's the best way to do it. Hummers are made to support their weight upside down, so don't mount over 40 spare tires up there at one time (150lbs./tire).
steve bell
---
For those of you who asked for a diagram of the hoist I use for taking off and replacing my spare on the roof rack, here is a graphics file containing that diagram: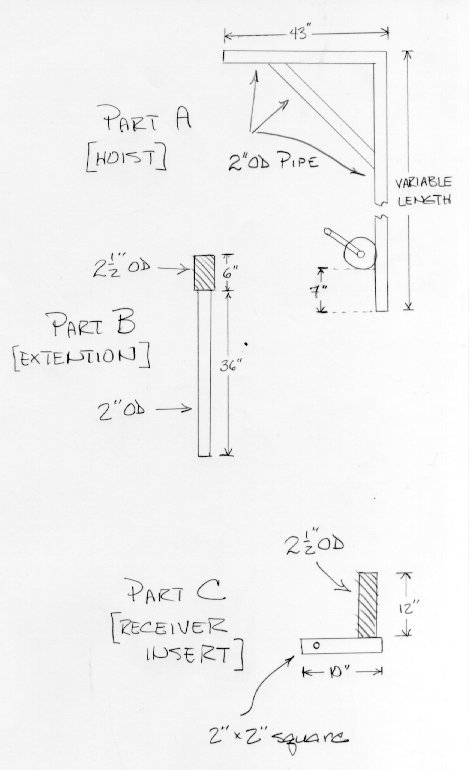 Part A indicates a variable length for the height. Mine is cut at 70 inches, which allows that part of the hoist to fit nicely into the bed of my Isuzu truck for movement around the area where I hunt. [The first one I made was much taller and then one day I ran into a live oak that was much stronger...the live oak won and I went into a redesign phase in hoist development.] On the Hummer the only restriction would be the length of the roof rack. The winch is hand cranked, with a gear ratio of about 5:1 [from Cabela's]. There are three pulleys, one mounted at the end of the 43 inch piece and the other two on the cross brace. The pulleys are each rated at 480 pounds.
Part B can be varied in length also, allowing for an increase in height if desired. Be careful not to increase the length of this piece too much unless you plan to sit on the roof and turn the crank. I had a 1/4 inch plate welded on the base of the 2 1/2 inch OD pipe to provide better support for the weld onto the 2 inch pipe section.
Part C inserts into the tow receiver. If you allow at least 8 1/2 inches from the hole securing the part into the receiver it will allow the doors on a wagon to open while the hoist is in use. I have also drilled a 1/2 inch hole through both the bottom portion of Part B and the pipe of Part C, which allows me to put a locking pin through both pieces securing them together.
All parts slip into each other very easily and allow whatever is being lifted to be pushed around [360 degrees]. That makes it easy to lift the tire off the roof rack, push it around 180 degrees, and lower it off the back of the vehicle.
Henry
Silver 98 TD Wagon