Warn Winch Rebuild
From the original forum topic entitled Warn Winch Rebuild begun on September 14, 2008 (only registered forum users can access it).
Related documents:
warnwinch_pn32316_wiring_diagram_new_solenoids_400.pdf*
*Neither of those are for the 2001+ style winch control packs as both images have 4 solenoids. The newest control packs have 3. These appear to be for the earlier style control packs on the Hummers.... Perhaps the "older" version is the early Hummer, and the "new" version is the middle aged Hummer? - Phazer42
See also:
---
When Peter and I did the checkout on the H1 we found that it winches in but not out - different than the usual issue where it goes out but not in. So I broke out the PB Blaster and grunted away. Got the winch and plate off and put it on the sawhorses for inspection. Nice and muddy is what I found.
Warn Part#: 32316 (odd because I don't see that anywhere on Warn's site)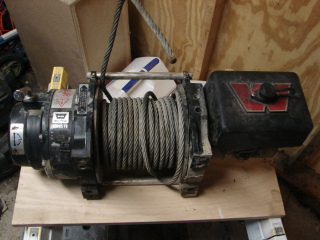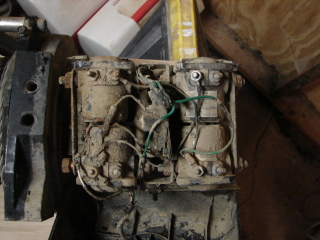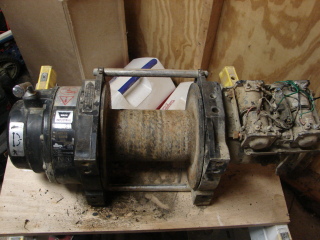 doberer
---
The winch (if it was the OEM one installed in 1996) is a series 12 industrial Warn winch.
Used in a wide variety of commercial applications, any Warn supplier that does tow trucks or work trucks can get you stuff for it.
IIRC, 4WheelParts.com even can get stuff for it.
Just don't mention Hummer to a standard off road outfitter. Work truck companies won't bat an eye when you mention a Series 12 winch.
Beastmaster
---
Update...
Started the teardown process this afternoon.
So far I don't see any gear play, worn teeth or buggered up parts. Just really really really muddy. I cleaned the majority of it today and will do the rest next weekend. I also ordered up some replacement parts (see below). I cleaned up the housings, roller and am waiting for the grease and parts to arrive to finish it up. Defintely the solenoids will need some TLC.
I did find a bunch of mud behind one of the seals so I am glad I pulled it down as far as I did. One of the housings all painted up and waiting for the new seals to arrive.
Before: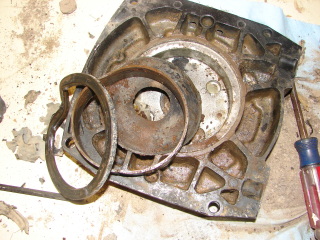 After (decided to paint the hosuings gray instead of black):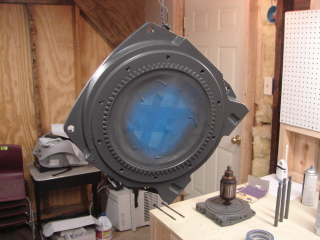 Rebuild Kit
QTY
PN#
DESCRIPTION
1
-
14oz Aeroshell 33MS
2
30275
SEAL, RADIAL OIL, 4.0" I.D.
2
30274
BUSHING, DRUM, NYLATRON
2
30277
WASHER, THRUST, NYLATRON
1
32062
MASK,DRUM,LG FRAME
1
32209
HEX SHAFT,DRIVE,5/16 X 5.7
1
14964
GASKET
1
34551
LABEL, CLUTCH ENGAGEMENT
1
27896
LABEL, NAMEPLATE,SERIES 12
1
27901
LABEL
doberer
---
Don't forget to replace the waterproofing!! I use plasti-dip. Add it to the solenoids and the terminals. You don't want to take a deep swim without them waterproofed.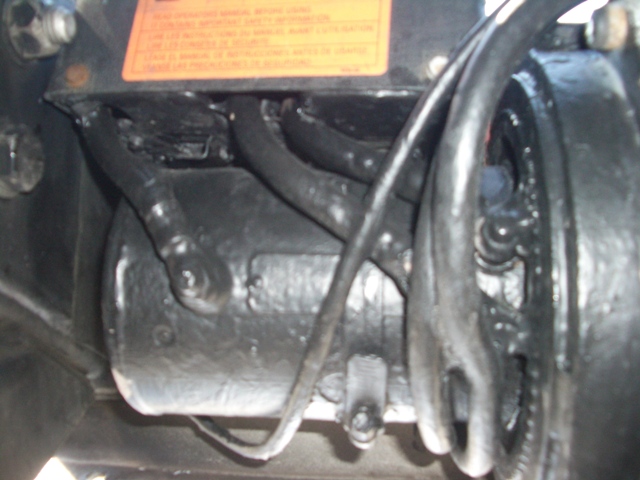 Waterproofing motor terminals with plasti-dip
jwalkley